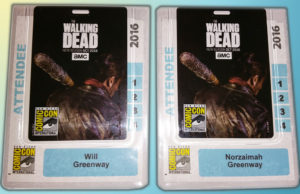 Rolling up on SDCC 2016
Yes, I got into SDCC again. Every year just getting in seems to be more of an accomplishment than the one previous. Remember when you could just line up and get tickets? Yeah, ancient history. I've been attending since the attendance was measured in the hundreds, not thousands. I remember skipping through the old convention center singing 'they're coming to take me away…' (okay, you had to be there).
For the last few years the SDCC committee have been shaking up things with new registration processes and wristband tracking for long lines, and now spiffy new high tech badges with RFID tags. Welcome comrades, big brother SDCC is watching. Now, we have to sign in and sign out. Kind of like work. I think this is all precursor to lotteries being run for the big events like hall H and ballroom 20. Run past a scanner and register your badge and cellphone number, get a text saying whether you're in or not. (This is speculation on my part, but it should be something like that.) I also think they should use the baseball stadium across the way and a jumbotron for the bleed over from hall H. Conan O'Brian will be doing a broadcast from SDCC… he's done some funny bits and panels in years past, but I guess this year he's all in. They are holding a separate registration just to be in the audience for his show.
Another recent change are the Wednesday night pre-screenings. This year pilots for Riverdale, Powerless, People of Earth, Frequency, and Time After Time will be shown. On Thursday, Dreamworks will be anchoring hall H, followed by panels on Oliver Stone's Snowden, Valerian and the City of a Thousand Planets, Feral Audio Live, and Under the Radar.
It always promises to be interesting and it hasn't failed in recent memory. See you there.